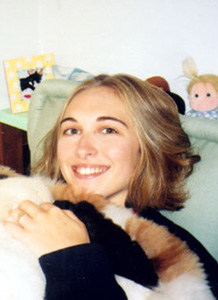 Hi! My name is Reyanna Joy Klein (pronounced Ray-AWN-uh), and I'm the President of Celiac Teens. I'm 21 years old, and married to that hot guy right below me! My husband, Jeremy, and I both work for Disney and live in Fullerton, California. We have been married since December 25th, 2002, and it is so sweet!
I was diagnosed with Celiac Disease in October 2001 and was motivated to create this site when I couldn't find many places to talk to people my own age about this disease. I need the support, and I knew many others out there need it as well. In February 2002 (before I decided to create Celiac Teens), I received 5 emails from girls who were also looking for support. That confirmed the notion I had, and thanks to my best friend and wonderful boyfriend-at-the-time, Jeremy (for helping to build the site), Celiac Teens was born.
Other than that, I'm a regular 21-year-old. I like going to the movies and bowling. And I love gymnastics, diving, swimming, and rock climbing. My favorite place is the beach, and my favorite color is yellow. Oh, and I LOVE to smile and meet new people! I would love to meet you too! You can AOL IM me: my screen name is reyasunshine. Email me also at celiacteens@yahoo.com
Hello! My name is Jeremy. I love tinkering with things. That's why creating websites is so sweet! I also love that incredibly gorgeous woman right above me! She's amazing! I wake up every morning, thinking, "Dude. I get to be married to her. Wow!" We have a lot of fun together.
Right now I am working for Disney. It's a decent job, but I enjoy building websites much more. I love the ocean (surfing is sweet!), and I also love rock climbing, mountaineering, snowboarding, music, randomness, and old records.
I hope this website helps a lot of people. Celiac Disease can be a very frustrating ailment. It's not impossible to overcome, though! Talking to people who have the same problem can relieve a lot of the stress. I personally do not have Celiac Disease, but I am still 100% committed to helping and encouraging Reyanna, and anyone else, who might have it. If you have any questions about ANYTHING, please feel free to e-mail us at celiacteens@yahoo.com. Take care! Enjoy the site!